Join Intentful's educational sessions about AI
Intentful's commitment to advancing AI is not limited to our work for clients. We are driven to make a difference in educating and inspiring companies and individuals who want to learn about AI in their space.
Since the summer of 2021, Intentful has been doing educational sessions at the University of Oxford, Exeter University, Singularity University, World Federation of Advertisers, MMA's The Future of Marketing Summit, eTourism Summit, IPW, World Travel Market, John Moore's Liverpool University, to name a few.

We also run custom "AI Innovation" workshops for companies around the world and consult marketing, procurement, e-commerce, and data teams on the use of AI and its integration into existing workflows.
AI for Travel Brands
Location: virtual event

Date: April 5, 2023 Time: 2pm EST
About:
Join us for the upcoming webinar, where we explain the ins and outs of AI and NLP and how destinations and travel brands can apply this technology in the travel industry.
Marina Petrova and Bruce Amick will provide an overview of the topic, discuss how AI is able to generate content, explore why AI sometimes gets facts wrong, and analyze various use cases in the travel industry.
Following the discussion, guests will be invited to participate in a live demo, where they will be able to build an itinerary or content plan with the help of Intentful's platform.

Since 2021, Intentful has created thousands of pieces of content for its clients, saving them hundreds of thousands of dollars while significantly growing their organic traffic.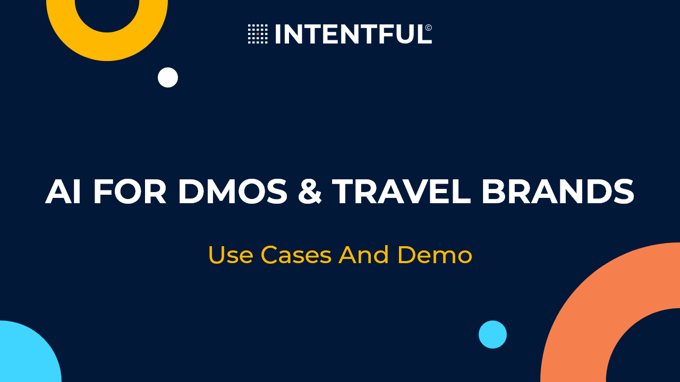 eTourism Summit
Event link: https://www.etourismsummit.com
Location: Las Vegas, USA
The Venetian Resort, 3355 S Las Vegas Blvd
Las Vegas, NV 89109
Date: April 11, 2023 - April 13, 2023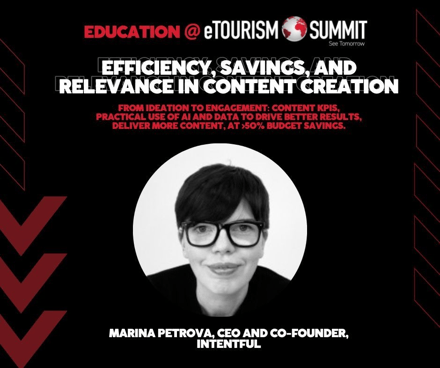 About:
Discover the latest trends, technologies, and strategies revolutionizing the tourism industry. You'll have the opportunity to network with leading industry experts, learn from inspiring speakers, and experience interactive workshops that help you maximize your business' potential.
Intentful's Marina Petrova's presentation at the event is about how to create successful, cost-effective content at scale for tourism, its key performance indicators, and the practical application of AI and data to achieve >50% budget savings.
April 11 /
1:25 p.m. – 1:40 p.m.
MMA POSSIBLE
Location: Fontainebleau Miami, USA
Date: April 17, 2023 - April 19, 2023
Place and time:
4441 Collins Avenue
Miami Beach, Florida 33140, US
Innovation stage | April 18
About:
Five practical tips for seamlessly integrating AI into your workflow: insights from early adopters
Hear from the CEO of Intentful, an early adopter of AI technology, about five practical tips on integrating AI into your content workflow. Find out what works and what doesn't, and gain valuable insights on the best strategies to start benefitting from advances in technology today.
Whether you're a content creator, marketer, or business owner, you'll leave having new ideas and knowing what actionable steps to take.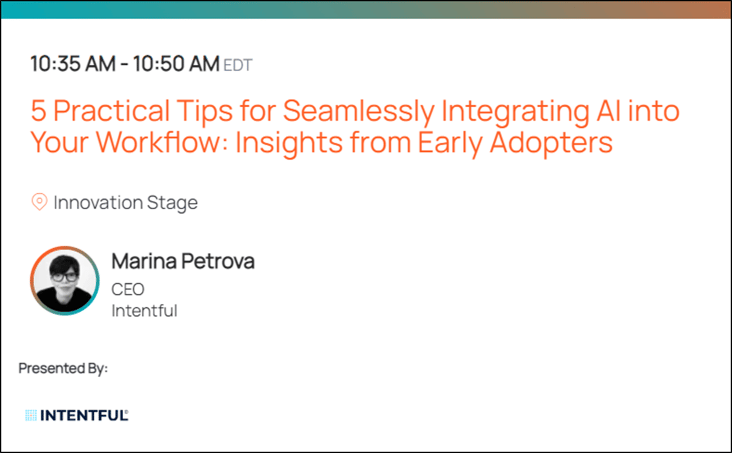 AI for Marketers
Location: virtual event

Date: May 4, 2023 Time: 2am EST
About:
Join us for an informative webinar on AI and NLP and how they can revolutionize content creation. We will discuss the basics of AI and NLP, how it knows what content to create, and why some facts are made up.
You will also learn about practical use cases for marketers and get to see a real-time demo of how to build any piece of marketing content for your brand. There will be time for Q&A and a demo. Don't miss it!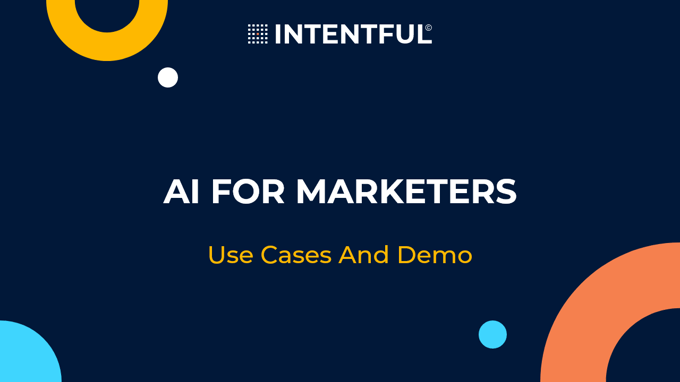 Hype or Real? Practical use of AI and what to know to start integrating AI into your work.
*Admission is free
Location: Columbia StartUp Lab, New York City, 69 Charlton, 1st floor.
Date: May, 2023 (TBD)
Time: 5:00 pm- 6:00 pm
About:
Margaret Downs, executive coach, and Quantum Media senior consultant, interviews Marina Petrova and Bruce Amick, co-founders of Intentful, early adopters of AI and NLP in commercial projects, to gain insight into the practical applications of these technologies.
Some of the topics we will cover:
What are AI and NLP?

Will the way we search change?

DEI in AI – why is some of the output far from the DEI standards of 2023?

How can you get started with integrating AI into your organization?
Marina and Bruce have used technical innovation throughout their careers to increase business success by combining technology and creativity.
AI Use Cases in Marketing
Event video:
Location: virtual event

Date: March 20, 2023 Time: 10am EST
About:
During the webinar we explored the ways artificial intelligence is transforming the content marketing creation landscape.

The presenters explained how AI knows what content to create, and why AI makes some facts up. The use cases were reviewed from a marketing perspective, focusing on how AI can help marketers generate more targeted, engaging content, and optimize costs and time.

This webinar is designed for Marketing, Procurement, E-Commerce, and Data Insights professionals who are looking to understand the role of AI in content creation. It is an excellent opportunity to broaden your knowledge of AI and NLP and learn how to use them in marketing.
CMO Summit New York City
Event link: https://events.cmoalliance.com/location/newyork/
Location: New York City, USA

Date: March 15, 2023
About:
Keynote presentation by Intentful: Practical Use of AI. New Ways to Create Marketing and E-Commerce Content.

AI and NLP have no doubt revolutionized content creation. As artificial intelligence continues to transform the business landscape, marketers and e-commerce professionals are finding new and innovative ways to leverage this technology to create compelling content that drives engagement and conversions. In this session, we explored practical use cases of AI, and talk about how it can be trained to understand your brand.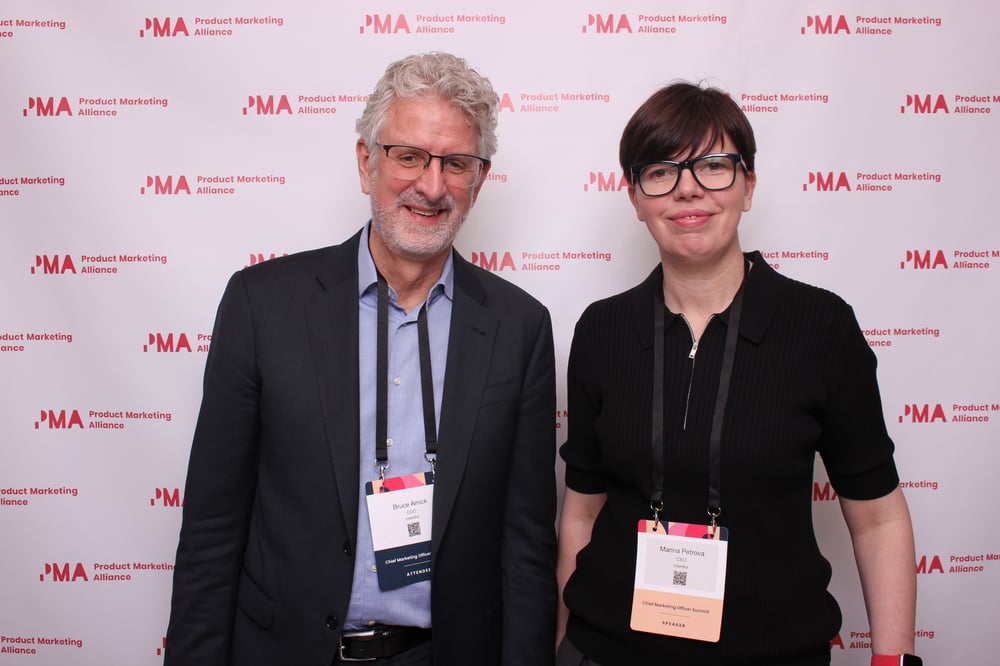 Place and time:
360 Madison Avenue, New York, NY 10017
Main stage | March 15
About:
Mobile World Congress, or MWC 2023, took place in Barcelona from 27 Feb to 2 March. It's the world's biggest event for the mobile industry, showcasing the newest tech from over 2,000 businesses. There were keynotes, panels, workshops, networking, and more.
The event's key topics were 5G acceleration, FinTech, OpenNet, reality+, and digital everything.
The relevance of the event is seen from the fact that trends discussed at MWC 2021 — 5G, artificial intelligence, hyper-connectivity, and Internet of Behavior — have already become a full-blown reality.
Intentful about MWC 2023

We would like to thank our long-time friends at GMS, a communications platform provider (CPaaS) for Enterprises and an international messaging service provider for Mobile Network Operators worldwide, for inviting us to Mobile World Congress in Barcelona.
AI for Travel brands
Event video:
Location: online webinar

Date: February 16, 2023
About:
On February 16, 2023, Intentful hosted a webinar dedicated to using AI and NLP in the travel industry. During the webinar, Marina Petrova and Bruce Amick discussed how destinations and travel brands can use AI to create content that accurately reflects customer needs. They also talked about real-world use cases for the travel industry, exploring how businesses can create itineraries and content plans with the help of AI.
To illustrate their points, the presenters hosted a demo where the guests created itineraries and content plans.
We look forward to seeing you at our next webinars.
AI for Marketers
Event video:
Location: online webinar

Date: February 15, 2023
About:
Intentful hosted a webinar for the marketing industry and included a demo where the guests could create marketing content. It provided marketers with an in-depth look at the capabilities of AI and NLP and how brands can use them to create marketing content and campaigns faster and at a much lower cost, while keeping the quality high and brand voice consistent.
The role of AI in the content creation process
Guests Bob Hofmann, VP of Broadway Inbound, part of the theatre-owning and show-producing Shubert Organization, with Intentful's Marina Petrova, CEO, and Bruce Amick, COO to share on how they made the most of Artificial Intelligence (AI) and NLP (Natural Language Processing) to create marketing and e-commerce content at scale, answering every day questions from a 15-million audience of Broadway theatregoers. Followed by Q&A.
AI is a much-discussed subject globally, revolutionizing our lives and occupations. This workshop analyzed the functionalities of Natural Language Processing (NLP) and its utilization in various sectors such as marketing, performing arts, finance, and healthcare. Attendees learned how NLP can automate complex processes, enhance productivity, and increase profits.
The speakers were two executives from NYC-based Intentful, Marina Petrova (CEO) and Bruce Amick (COO).
Our Intentful team trained the AI models for the Oxford Union debate.

We trained the AI to impersonate William Shakespeare, Jane Austen, Oscar Wilde, and Winston Churchill for the debate where the motion was "This house believes most of the world's content will soon be created by AI."