The Role of Video in Content Marketing: Trends and Numbers

Intentful
Videos have quickly become an essential part of content marketing, given their ability to captivate audiences and convey complex messages in a visually appealing and easily digestible manner. With the rise of social media platforms such as YouTube, Instagram, and TikTok, as well as the proliferation of smartphones and high-speed internet, this type of content has grown in popularity and effectiveness, making it a vital tool for businesses.
This blog post takes a closer look at the role of video in content marketing, as supported by the latest trends and reports. By understanding them, you will gain valuable insights into how you can leverage the power of video to drive engagement and results for your brand. So, let's dive in.
The Rise of Video in Content Marketing
If you're wondering whether it's worth creating videos promoting what you sell, the latest 2023 statistics courtesy of Wyzowl makes finding an answer a no-brainer:
Approximately 96% of people watched an explainer video to gain a better understanding of a product. And 53% of marketers say that videos help them decrease the number of support queries.

A significant 89% state that watching a video has influenced them to make a purchase.

As much as 79% say they've bought an app after watching a video about it.

An impressive 51% is likely to share videos more than anything else with their friends.
91% express a desire for this type of content from brands.
All this is good, but how are things looking from the point of view of brands? What about ROI? The answer is 92% of marketers believe videos provide a great return on investment. And about 90% of marketers claim videos help people understand products, increase brand awareness, traffic, sales, dwell time on websites, and generate leads. All that is the latest stage of a trend whose steady increase has been observed since 2015.
Other statistics and trends further underscore the importance of this format.
A staggering 91% of businesses now use video as a marketing tool — a result of a steady rise from 61% in 2016.
92% of marketers say this format is an integral part of their marketing strategy — an incremental increase from 78% in 2015.
Several brands have leveraged video content successfully. For instance, Nike's "Dream Crazy" ad featuring Colin Kaepernick garnered tens of millions of views on YouTube and attracted 170,000 Instagram followers within seven day of its release. The ad also won an award at the Cannes Lions International Festival of Creativity. Another example is Dollar Shave Club's "Our Blades Are F***ing Great," which went viral and helped the company acquire over 12,000 new customers in the first two days after its release and now has 28 million views.
Speaking of dreaming crazy, an ideal ad clip would have the popularity of "Gangnan Style" — 4.7 billion views.
Apart from that, there are other impressive examples to get inspiration from:
Google's "Year in Search 2019," dedicated to that year's most searched-for topics, boosted Google's image as a company deeply ingrained in people's lives.
Types of Video Content
The advertisements listed above are excellent and worthy of admiration. But surely, not only ad clips are worth creating and are created. So let's move from a broad perspective to a more detailed and specific one.
In 2023, these were the most often created types of videos: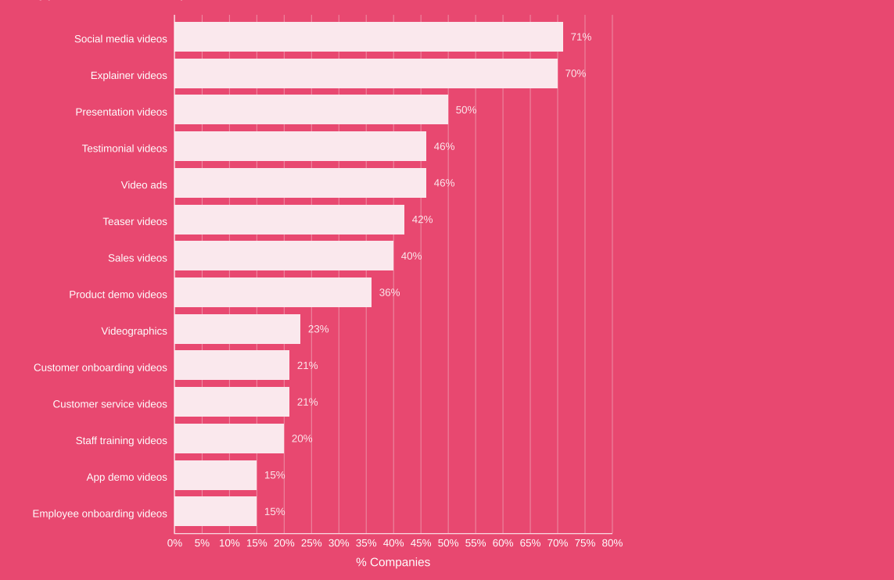 The latest numbers by DataReportal shed light on what people—Internet users from 16 to 64—watch weekly in 2023.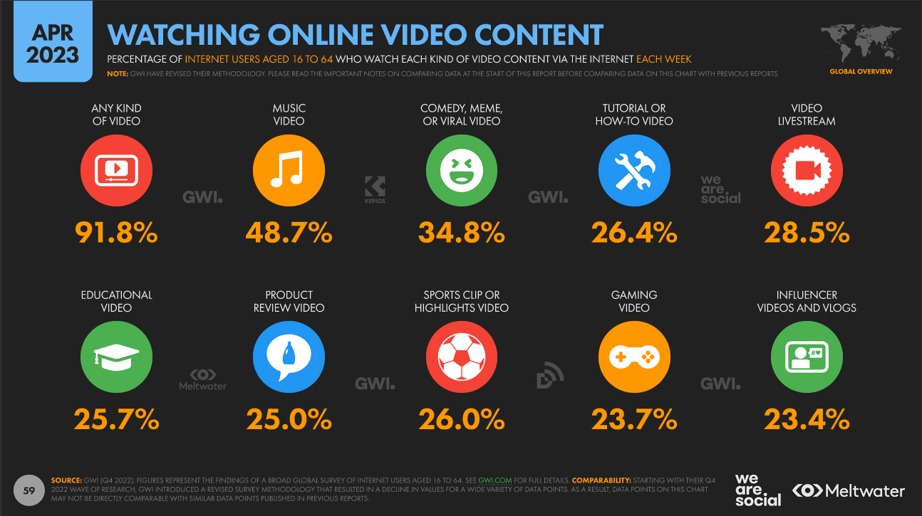 Here are summary numbers most relevant to marketers: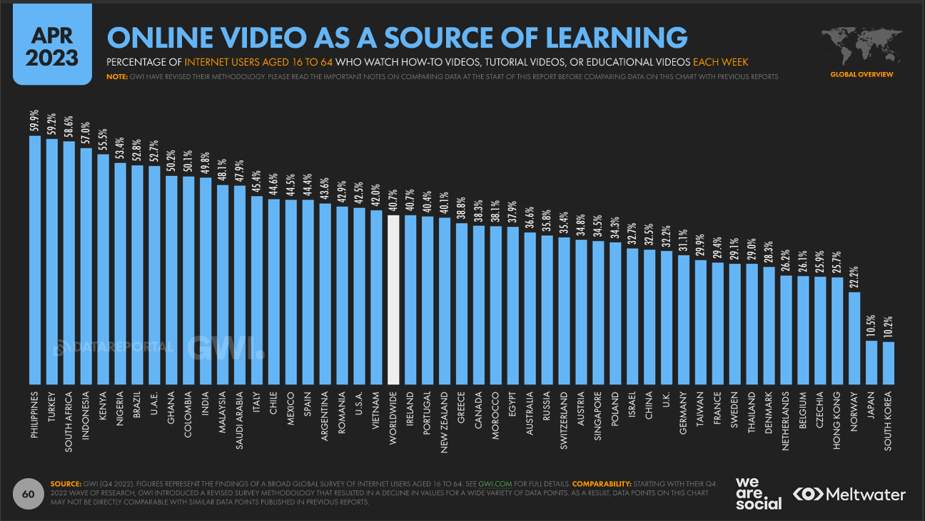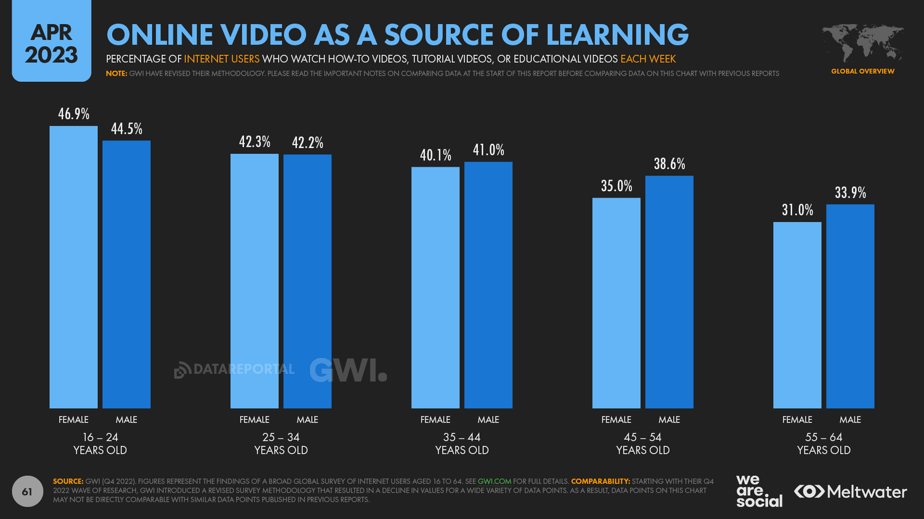 Explainers (the second place in the red bar chart above) describe how a product or service works and describe its benefits. They are often used to simplify complex concepts or features. For example, Dropbox's explainer helped the company raise no less than… 48 million dollars.
Presentations are created to accompany a business pitch, a conference talk, a classroom lecture, etc. They illustrate key points, provide visual aids, or add interest and engagement.
Testimonials feature satisfied customers who speak about their experience with a product. They build trust and credibility with potential customers and are often used in the decision stage of the sales funnel.
Teasers are short, attention-grabbing clips promoting a new product, service, or event. They build excitement and anticipation, generate buzz, and encourage viewers to learn more.
Product demos showcase a product in action and highlight its features and benefits. They can help convince potential customers to make a purchase and are often helpful in the consideration stage of the sales funnel. Blendtec's "Will it Blend?" is a good example.
Videographics combine motion graphics, animation, and text to create a visually engaging and informative experience. They explain complex concepts or provide data visualizations.
Customer onboarding videos help new customers get started with a product or service. They provide step-by-step instructions, highlight key features, and answer common questions.
Customer service videos provide support and assistance. They answer common questions, offer troubleshooting tips, or demonstrate product use.
Best Practices for Creating Video Content
Now that you're well-versed in the various types of marketing videos, all that remains is to create them well. Here are some best practices and tips to keep in mind to achieve efficiency, motivate people, and drive results for your business.
Define your target audience to be able to offer that which resonates with them.
Keep it brief and to the point,

as attention spans are not long.

Tell a story that is compelling, resonates with, and motivates your demographic. It pays to be witty, humane, and inventive.
Use high-quality equipment—a good camera and microphone— to ensure a professional look and sound.
Add captions so the people who turn the sound off still receive the message.
Optimize for SEO, using relevant keywords in the title, description, and tags.
Post the video on social media to increase reach and engagement.
Measure your success via analytics tools. Much like traditional KPIs for content marketing, metrics include views, engagement (measured in shares, likes, comments, etc.), leads, retention, and sales.
If, besides videos, you also need high-quality texts—to be created at scale, swiftly, and at a significantly reduced cost—then Intentful is just what you need. Feel free to reach out, message us, or schedule a workshop. We offer turnkey artificial intelligence content, dedicated AI instances for brands, and cutting-edge ChatGPT plugins — the most advanced conversational (as opposed to pre-scripted) chatbots available today.