The importance of scaling marketing content production

Intentful
In today's world, people are interacting with more content than ever before. They're reading blogs, watching videos, listening to podcasts, browsing social media, and more. Most customers today are shifting between screens multiple times a day. Whether it's checking email on their phone, catching up on the news on their laptop, or streaming a movie, they're constantly jumping from one device to another. It is no wonder that in today's fast-paced world, our attention spans are shorter than ever.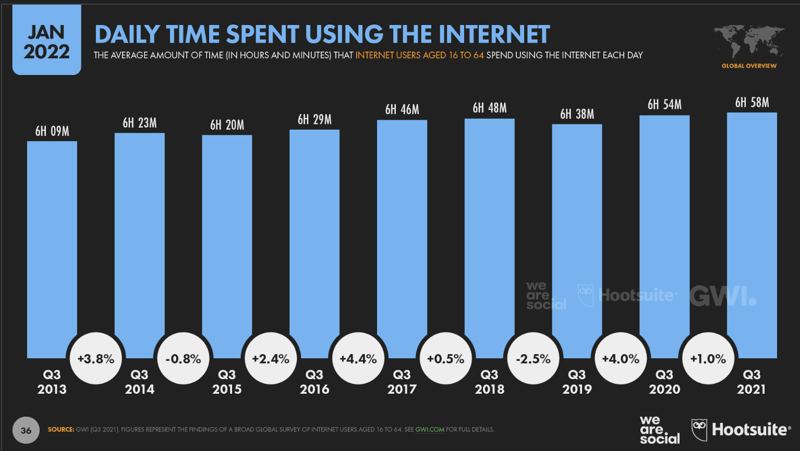 For brands, this is a huge challenge but also an opportunity. Customers are bombarded with choices, and so many companies are vying for attention online and offline that it can be tough for brands to get noticed. And even if a brand succeeds in cutting through the noise, there's no guarantee that it will be able to maintain attention – it's easy for audiences to get distracted and click away from something before fully digesting it.

The opportunity for brands lies in identifying how to create content that is both relevant and engaging. In order to be effective today and connect with customers at every touchpoint, all content should be data-driven, well-written, and optimized for the specific platform it's being published on.
In one of Intentful's recent blog posts, we talked about the trend toward personalization. While it will take time before personalization is in full swing, it's something that all businesses should be prepared for. No longer can companies simply post something and hope that their message gets discovered and resonates with everyone in the brand's target audience.
New ways of creating content
As the demand for content continues to grow, the cost of creating it will keep increasing unless brands change their approach from traditional methods to new, more efficient ways. The old approach is no longer practical because the demand for content has grown so much that traditional methods have become a bottleneck for content creation. There's no way for brands to produce enough content to meet the demand.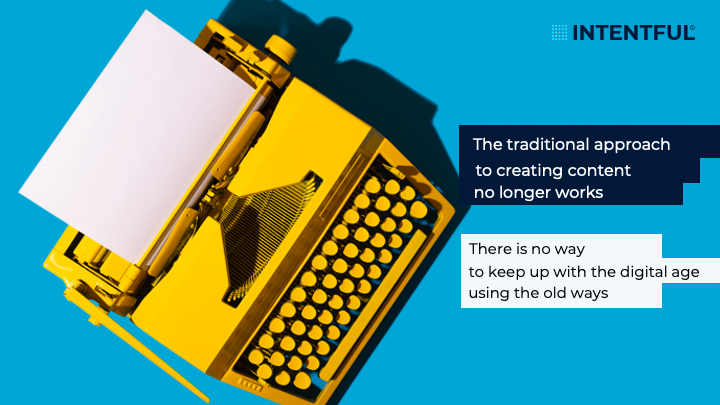 Over the past few years, data and AI have emerged as two of the most important tools for content creation. They are quickly becoming essential, changing the way marketing, advertising, and e-commerce content are created.

Data allows for a more personalized and targeted approach to content creation, as it can be used to analyze consumer behavior and preferences. AI can then be used to create content based on the data insights and is more likely to resonate with readers. This data-driven approach will have a major impact on the marketing and advertising industries in the coming years. And as data and AI become more sophisticated, the content that is created will become more and more tailored to the needs and wants of consumers.

In order to keep up with the trend toward personalization, brands need to consider how they will transition their content strategies to meet the demands of the new customer.
The role of data and AI
There are three key questions that will help brands decide when to start transitioning:
Is your content relevant to audience interests?

What is the cost of creating content?

How to create a large amount of content quickly?
Let's take a look at how data and AI deliver on each of these key questions:
Quality and Relevance
When you are able to create relevant content, you are able to connect with your customers on a deeper level and produce results that are more likely to lead to conversions. With data, you can see what type of content resonates with your customers more, define audience segments, and set clear goals for each of them. And AI can help by taking away the guesswork and turning insights into content that is both accurate and relevant. At Intentful, we leverage data and AI to create content matched to customer intent. If you'd like to see a demo, get in touch.
Cost
For most businesses, content creation is a costly and time-consuming process. But thanks to advances in NLP (Natural Language Processing), brands can now generate content at a fraction of the traditional content creation cost. This is especially true for brands that produce large amounts of content and are looking for ways to achieve savings through production efficiencies. As technologies evolve, the cost of content creation will continue to decrease.
Speed
In most cases, content creation is a slow and manual process. Thanks to AI, brands can now produce content at a much faster rate. Companies that can create content rapidly have a significant advantage over those that don't. Speed is essential to being able to produce the volume of content needed to reach a large audience, as well as to quickly adapt and respond to changes in the market. Some of our clients have reported that their content is now produced 5 times faster when compared to old approaches.
One tone of voice and consistency
When you're scaling your content marketing efforts, it's important to maintain one style across all of your channels. This will help build trust and credibility with your audience, and make it easier for them to engage with your brand. AI is perfect for this task: once the AI model is trained, it can generate content that is consistent with your brand's voice and style. Not only can AI help speed up content creation, but thousands of content pieces will be produced in one consistent style – something that is not always possible with a team of freelancers who might have different approaches.

Uniqueness
Once your creative team finalizes the strategy, core creative materials, and message, AI can help customize content for different channels and platforms, so that your message is always on point and is written in a unique voice that speaks to your specific audience.
It is also super important for SEO to have fully unique, original content to avoid duplication across websites. For example, you need to have different versions of copy on your own website, on your Amazon page, and on your social media accounts to avoid any search engine ranking issues.
Measurement
Content marketing is often one of the first areas to get cut when budgets are tight. But with the right data and tools, you can measure the ROI of your content marketing efforts and show how they contribute to your business goals. With data, you can track which pieces of content are most popular, what topics are being shared the most, and how your content is performing on different channels.
Keeping track of tens of thousands of content variations
As you transition to new ways of creating content, you will quickly realize that the volume of content you need to produce is much higher than before. Producing tens of thousands (or even more) pieces of content will require a new approach to management.
Read a blog by Intentful's COO Bruce Amick, What a Content Operations System Is and Why Your Firm Should Use One. It's a great article that explains how a content operations system is different from a project management software, when you should consider using one, how it will increase your team's productivity and streamline the process management.
Because of the massive amounts of content, the approach to management needs to change: if you have 200 SKUs, 7 e-commerce platforms, 10 blogs, and need to update 80 other pages, doing it in emails and spreadsheets isn't manageable or scalable. A content operations system will help juggle a lot of moving pieces as you take your content production to the next level.
Getting started checklist
We have created this simple checklist to help you get started.
Define your audience segments with laser focus
Set clear goals for each of the segments
Use data to decide what type of content resonates with your audience, and is aligned with the business objectives
Create a content plan and content production schedule and stick to both
Automate or outsource certain aspects of content production
We also recommend reading our other blogs, AI in Content Marketing and Examples of AI-generated content. Should you have any questions, or would like to schedule a demo, please contact us.
In a world where even small businesses often have hundreds of SKUs, multiple e-commerce platforms, numerous blogs, and social media accounts, changing your approach to content creation is the only way to stay afloat. As the demand for content grows, you need to be able to produce enough to meet that demand, and this modern method is the perfect solution.